Are your business survey forms not receiving the expected response? It could be due to a dull or extended layout that makes customers want to quit before finishing. Hence, you must create engaging forms to receive maximum consumer-driven data using Typeform.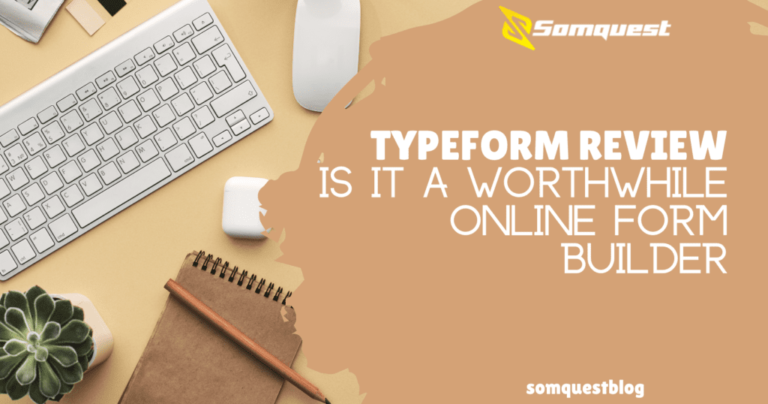 It is a web-based service for making forms and apps with no coding. Hence, you can subscribe to this online survey-building platform to get thoughtful responses from your target customers. So, let's delve into details to learn everything about this software. 
What is Typeform?
Typeform is an online software based in Spain. Its founders, Rober Munoz and David Okuniev, had put its foundation a decade ago. Currently, it is one of the leading online forms and survey creators. Using this software, you can generate intuitive forms based on your business's requirements. 
Also, big names like Apple, Uber, and Airbnb trust this platform with their surveying tasks. Hence, you can rely on it to get customer feedback without going through some extraordinary hassles.
How Does Typeform Work?
Typeform understands the value of survey forms and polls in a business's journey to success. Usually, your customers won't be interested in filling out these forms as they find them boring. However, with this platform, you can access hundreds of conversational templates which will help you extract more data from your prospects. 
It also features examples of highly engaging survey questions. It displays one question at a time to maintain the interest of users. Moreover, you can also add images or videos to your survey forms to give them an interesting touch. The beautifully designed forms will definitely prompt your customers to fill them out until the end. 
How to Sign Up at Typeform?
To create highly conversational forms, you must first create a Typeform account. It's free of cost. Follow the below steps to get started on this platform:
Visit the official Typeform website by clicking here. 
Click on the tab with the text "Get started."  It is free. 
Select "Sign up with an email" to proceed. However, you can also link your Google or Microsoft account to Typeform. 
After entering a valid email and password, agree to its terms of service, privacy policy, and data processing agreement.  
Now click on "Create my free account." 
It will send a linked button to your email inbox for the final activation of your account. Click on it and wait for a few seconds.
Finally, you can set up your profile and create beautiful, interactive forms. 
Features
Typeform, a comprehensive web platform, lets you create appealing and user-friendly forms without coding. Besides an easy-to-use form builder, it also features multiple applications to create quizzes, surveys, polls, etc. Let's explore how these features can help your business perform better. 
Quiz Maker 
Online quizzes are beneficial as they generate awareness of your brand, eventually leading to more engagement. Quiz maker lets you create engaging quiz sheets in a few minutes. Besides being easy to use, its quiz maker is also customisable. Hence, you can add or remove things accordingly. 
Pre-Built Templates 
This platform features hundreds of pre-built templates based on various categories. Here, you can find optimised layouts for forms, surveys, quizzes, polls, etc. After selecting a suitable template, you can personalise it easily by adding guidelines for your brand. 
Various Integrations 
It allows the integration of several third-party apps to save you time and effort. For example, connecting HubSpot can help generate leads through survey forms. Similarly, you can also convert a Google form into a Typeform with a single click. Moreover, other integrations include Notion, Calendly, Canva, Slack, etc. 
Poll Maker 
Using this platform, you can create different polls to gather quick customer feedback about your services. Also, polls play a critical role in improving your marketing strategies. Hence, the Typeform poll maker is highly responsive and won't cost you a single penny. 
Typeform Pros and Cons 
Although Typeform is highly functional, some aspects have still let users down. Before discussing those drawbacks, let's overview how this platform could benefit your business. 
Pros 
Unlimited typeforms and questions 
Multiple smooth integrations 
Easy to use 
Extensive template library for forms, quizzes, surveys, and forms 
Lets you add a conversational touch to the forms 
Allows insertion of brand guidelines into the templates 
Cons 
Incompetent customer support service  
Limited functionality 
Typeform Pricing 
You can try all the features on this platform for free to create and customise interactive forms. However, you must buy a paid subscription to share them. 
The plans include the following: 
Basic – $25 per month
Plus – $50 per month 
Business – $83 per month 
Enterprise – Contact their sales manager to get a mutually decided quote 
Each plan includes unlimited forms, questions, and more than 500 integrations. However, the number of monthly responses varies according to the price you pay. 
Conclusion 
Typeform is a perfect solution to unresponsive business surveys. It's one of the best tools for creating engaging and appealing forms without coding. You can either create unique designs or use its pre-built templates to develop forms that collect maximum data.
Thus, what is holding you back? It is high time to level up your brand research strategies by subscribing to any suitable Typeform plan. Visit somquestblog to learn more.
Which is better, Typeform or Google forms?
Both platforms provide forms that are best at what they do. However, at Typeform, you can get hundreds of templates and integrations. Also, you are free to give a personal touch to any layout.
On the other hand, Google forms' functionality is better. It also features multiple tools that'd be enough to meet your business's marketing needs. 
Can I use Typeform for free?
You can use its features to create optimised survey forms or polls. However, it is essential to subscribe to a paid plan if you want to share the form across media. 
Can I use Typeform offline?
No, creating forms with this platform is impossible in case of network unavailability. Without the internet, you won't be able to load its templates or share the forms with your customers. Moreover, the internet is also necessary to receive the submitted responses.