Do you want to take advantage of selling your knowledge online? Are you looking for ways to create online courses? If yes, you're at the right place. Teachable gives you stunning features and flexibility to develop and market courses online. This article will brief you about this popular online course creation tool to ensure your success in fierce competition.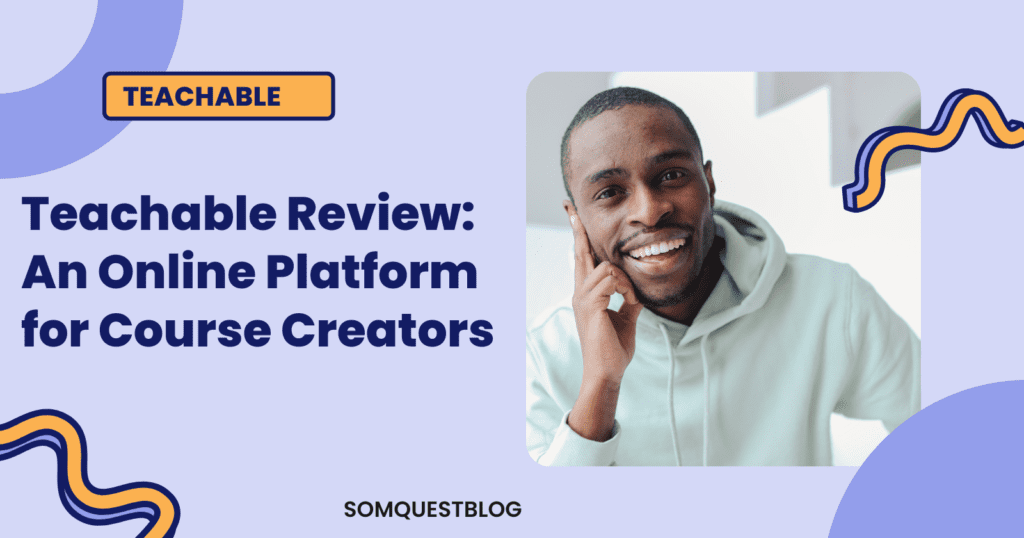 Choosing the right tool is crucial for success. So, give it a detailed reading and learn its course building, marketing features, and pros and cons. Further, how it can help you achieve your goals, its customer support and more, let's get rolling down.
Is there any free plan available in Teachable?
No! What Teachable offers is a 14-day free trial. The company used to offer a free plan, but now it offers a short trial upon signing up and getting started. It is the pro plan ($99 per month). After that, either upgrade your plan or your school gets deactivated.  You can assess the features and functionality using this free trial final purchase.
What is Teachable?
A graduate of UC Berkeley, Ankur Nagpal founded Teachable in 2013. He came upon this idea while teaching a marketing course on another course platform. Facing difficulties due to course platform limitations, Ankur started his forum with more functionality, simple payment processing and customised tools.
Now, Teachable is the platform for people who want to teach online. It allows uploading videos, managing live sessions and selling campuses with a simple checkout process. It's beginner friendly, and you can create and publish courses easily. It offers widespread course options from baking to business analytics and more. 
Today Teachable has a community of over 100,000 creators who've sold over $1 billion in courses and coaching. Instead of providing classes, it now allows creators to start their businesses by creating courses or coaching services. 
Features
Building with ease
Teachable lets you build courses and coaching sessions using an easy-to-use drag-and-drop builder. Even you can take advantage of Teachable:pay for payment processing and start receiving payments without needing third-party apps. You can create a custom domain and add a blogging section for more market engagements. 
Moreover, if you prefer other tools, integration capability enables you to use them on the platform. Teachable offers direct integrations with MailChimp, Zapier, ConvertKit, Google Analytics, Segment, and more. Quizzes, comments and certifications further boost student engagement tenfold to new heights.
Scaling business with new revenue streams and increasing the audience is one core focus of Teachable to its users. Automatic monitoring, tax filing, and chargeback support help streamline your business. You can expand to the global level with tax-inclusive pricing, sales and checkout conversions with upsells, order bumps and more. 
Further, you can create any number of courses. Its bulk upload feature makes it easy for you to migrate student data and courses from other platforms. You can speed up your business in every possible way you can imagine using the flexibility Teachable offers.
Management
Managing repetitive tasks like compliance, taxes and general business management is frustrating. Teachable solves this problem by automating all the tedious tasks. Whether it's remittances or taxes, it caters for all in a good manner. 
Moreover, advanced reporting and insights help you make data-informed decisions about student engagements and course sales. Also, backup and fraud protection capabilities ensure your safety against cyber attacks. 
Support and Guidance
The dedicated customer success team at Teachable guides customers step-by-step from the start of their online school. They provide three coaching sessions every week to make running the business a piece of cake for you. Peer connection in the Teachable community shares stories and data and guides each other to help grow.
The flagship training program Teachable:u, live events and customer support are always there to help you resolve issues. Experienced professionals assist you in design, marketing and course-building. You can connect through email and live chat. 
Watch this video:
Teachable Pricing
Along with best-in-class features, the Teachable pricing plan is simple. It has different plans, so you can opt for one according to your business needs and budget. Below is the breakdown of other plans and pricing in the table.
| | | | | |
| --- | --- | --- | --- | --- |
| Plans | Free | Basic  | Pro | Advanced |
| Pricing | $0 | $29 | $99 | Custom Pricing |
| Transaction fees | $1+10% | 5% | 0% | 0% |
| Admin users | 1 | 2 | 5 | Custom |
| Courses | 1 | 5 | Unlimited  | Unlimited  |
| Coaching | 1 | Unlimited  | Unlimited  | Unlimited  |
| Digital downloads | 1 | Unlimited  | Unlimited  | Unlimited  |
| Unlimited students | ✔️ | ✔️ | ✔️ | ✔️ |
| Integrated website builder | ✔️ | ✔️ | ✔️ | ✔️ |
| Custom domain | ❌ | ✔️ | ✔️ | ✔️ |
| Direct Integrations | ❌ | ✔️ | ✔️ | ✔️ |
| Public API | ❌ | ❌ | ✔️ | ✔️ |
| Advanced theme customisation | ❌ | ❌ | ❌ | ✔️ |
| Advanced Reporting | ❌ | ❌ | ❌ | ✔️ |
| Live chat | ❌ | ❌ |   | ✔️ |
| Dedicated success manager | ❌ | ❌ | ❌ | ✔️ |
| Priority support | ❌ | ❌ | ❌ | ✔️ |
| Implementation & Migration | ❌ | ❌ | ❌ | Custom |
Pros and Cons
Pros
Pro plan is quite good and provides all the features and live support
Coding course creation is a lot simpler with 17 languages and colour coding accordingly
Bulk coupon generation for large student base
Ease of use
Built-in marketing tools
Good customer support
Page builder and email template editor 
Cons
Free plan is limited
Charge transaction fees even on basic plan
Stripe support is unavailable
Admin interface is slow
Is Teachable Legit?
Yes! Teachable is not only legit but one of the renowned platforms for course creation and marketing. You can create courses, coaching sessions and more with easy-to-use tools available. Integrations with third-party apps further streamline the process and make it one of the most versatile options available in the market. 
Teachable Review: Final Thoughts:
If you aim to create and sell courses online, Teachable is the right LMS platform. It offers an all-in-one tool set and integration options to make the best out of your online teaching. You can entertain students on global level with much ease and flexibility compared to other platforms. 
Anyway, whether you're a new or experienced educational professional, you can take advantage of this opportunity to broaden your influence. don't forget to mention your thoughts in the comment section. Also, stay connected for more updates. Visit somquestblog to learn more.