Are you stressing out because of investing in the wrong stocks? Is your portfolio getting affected by it? It may happen if you invest your money without extensive research and screening of the particular stock. However, the good news is that Stock Rover can save you from further loss.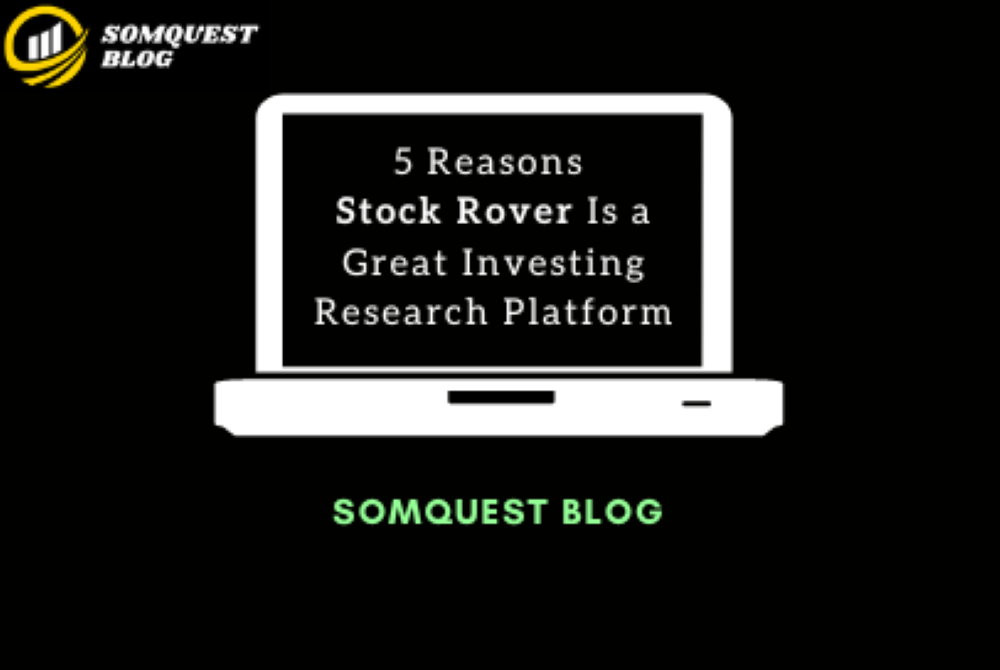 This platform has been Investopedia's favourite stock screener for two consecutive years. With its comprehensive research features, you will be on your way to making informed decisions while investing in any stock. Besides being an extensive research platform, it is also a portfolio management source.
With that said, let's begin exploring what makes Stock Rover a reliable go-to source for investors of all types.
Table of Contents
Robust Screening Capabilities
With Stock Rover's screening feature, you can access real-time data of almost thousands of stocks with authentic stats. Moreover, whatever your investment strategy is, you can find a relevant screener from its 140 prebuilt options.
You just need to visit the platform investor's library, and these screeners will be accessible with a single click. The best part is that it also allows the creation of a custom screener by modifying pre-existing ones. You can screen various metrics, ranging from financial to operational and ratings-based in that.
Moreover, you can even write equations for screening complex conditions. Another valuable aspect of the Stock Rover screeners is they contain strategies from several investment experts. Peter Lynch, Joel Greenblatt, and Benjamin Graham are to name a few, and their popular methods include:
Greenblatt Return on Capital and Earnings Yield
Price to Graham Number
Price to Lynch Fair Value
Shiller PE
Detailed Stock Comparisons
Of course, to get the best possible price, you must compare different metrics of all the available stocks. And that is where Stock Rover's comparison feature makes your work easier. The best part is that this platform's comparison tools are easy to use and allow for in-depth evaluation.
Although the Stock Rover Table looks like a simple spreadsheet, it works as a powerful weapon for investors. Moreover, you are free to edit all the sections in the table. Also, you can filter metrics and colour rows for better visibility and add notes for later use. Moreover, you can access all the latest pricing data in it.
Another comparison-based feature of Stock Rover that helps you invest in the right place is its Insight Panel. You can easily view detailed financial and analytical data with the help of this feature. Further, some common metrics include sales, earnings, company-related news, dividend analysis, ratings, etc.
Related article: Trading with Robinhood Review: Fee-free Platform to Make Investments
Extensive Reporting
You can find research-related stock reports almost anywhere. However, it is rare to get comprehensive ones with an unbiased overview. That's where Stock Rover's Research Reports subscription can help.
Subscribing to this plan allows you to access unlimited reports on over 7000 available stock. Moreover, besides a web view, you can also download them in PDF format for future use. Some of the standard metrics that these reports can contain include:
Critical details about P/E, EPS, and sales growth
Safety margin and fair value
Business summary
Valuation, growth, profitability, returns, debt
Risk analysis, peer analysis
Income statement and balance sheet
Additionally, you can access the key valuation history of almost a decade in these reports. And to stay vigilant, don't forget to check out the warnings section of the stock you plan to invest in.
Watch What is Stock Rover How It Works Explained! video
Automatic Portfolio Updates
Keeping a close eye on your portfolio is one of the crucial aspects of investment. Thus, the portfolio analysis tools at Stock Rover can be of great use. Moreover, you can also subscribe to get automatic performance reports for your investment. Whether you want to receive them daily, weekly, or monthly is entirely your choice.
It lets you know if a particular stock has reached your buying or selling target. Hence, it will eventually help you make more informed decisions in the future. Moreover, the alerting feature of this platform will notify you of any significant change in the portfolio. This way, you can take action accordingly to protect your assets.
Additionally, the Stock Rover brokerage integration will simplify the portfolio importing for you. Also, you can enter the positions manually. However, we recommend you use the platform's connection facility as it completes the syncing quickly.
Comprehensive Charting
Stock Rover covers both portfolio-related charts and stock-related charts. Moreover, you can control what you want to view in the charts. For example, you can access a comparison between your portfolio and benchmark. You can even view the total return amount inclusive of the dividends.
The best part is that it can even display if a stock you have your eye on is undervalued or overvalued. Also, the four types of valuation charts offer stock valuation in multiple dimensions. These include price vs fundamental, scatter plot, football field, and historical range.
You can see many technical charts like the Aroon indicator, average true range, or Bollinger bands. The list is pretty long, and you can find those metrics that can help you make the best decision.
Conclusion
As an investor, realising the importance of portfolio management guarantees ultimate financial growth. Moreover, monitoring market risks closely is critical to ensure maximum returns. Hence, Stock Rover can be your go-to solution with its top-notch screeners to evaluate the stocks and EFTs.
One of the most amazing parts is that its features extend beyond the screening abilities. You can access detailed charts, stock comparisons, and auto portfolio alerts. With all these features and smart investment, your profit margin will definitely double. So don't wait long and let Stock Rover become your investing partner. With this platform, the financial benefits are unlimited.
Is there any Stock Rover free plan available?
Yes, you can sign up and start using some of the basic Stock Rover features for free. However, subscribing to a paid plan is vital to access its detailed version. 
Does Stock Rover have any mobile applications?
Stock Rover has phone and tablet apps that work on both Android and iOS. 
Can I cancel my Stock Rover plan after the subscription?
You can conveniently cancel your Stock Rover plan by navigating the Account Settings menu. There, click on the Change Plan tab and make the necessary amendments. Afterwards, a customer support member will contact you through email to confirm your cancellation.