Are you considering trading to protect the value of your assets against inflation? With this decision comes great responsibility, as your minor negligence might risk your finances. Moreover, your choice of brokerage platform also matters a lot. It should be safe and feature tools to make trading easier and more profitable.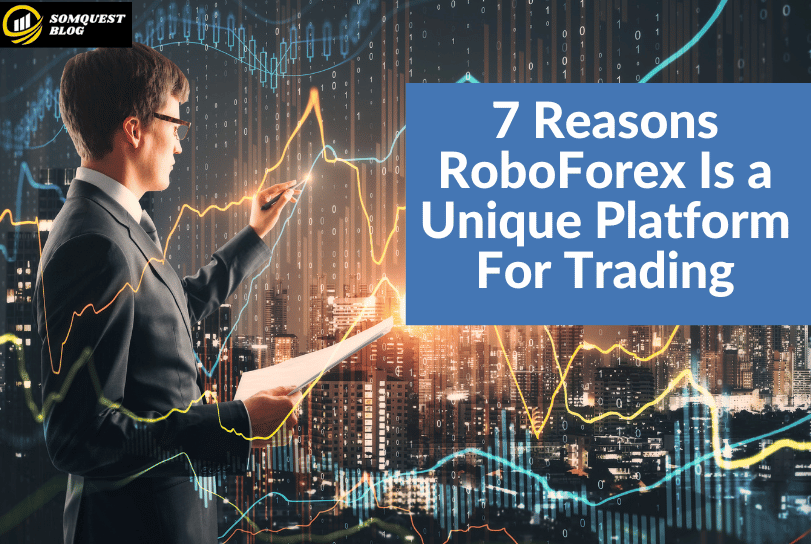 Currently, many such platforms are available in the market, but RoboForex is unique of all. To support this, we have gathered a few features of this platform that set it apart from its competitors. So without wasting further time, let's begin exploring the reasons behind the uniqueness of RoboForex for trading.
Table of Contents
A multitude of Trading Assets
The first thing that sets RoboForex apart from other trading platforms is its total trading assets. You can choose from the market of your interest and start trading instantly. Moreover, it even allows investing in all the assets simultaneously. Thus, you can operate everything from a single platform. Some of the significant RoboForex trading assets are:
Forex
It is one of the most popular trading markets on this platform which remains active 24/5.
Stocks
You can invest in the stocks of some major companies at RoboForex. Out of these companies, Amazon, Google, and Netflix are to name a few. Moreover, the extensive coverage of this category extends beyond the US. It also covers the UK, Germany, and Switzerland firms.
Indices
It means investing in a group of stocks on this platform with some exclusive conditions. Leveraging it, you can definitely increase your profit margin.
ETF
RoboForex's ETF is an ideal investment option if you want to trade multiple assets together. Moreover, this helps in portfolio diversification too.
Metals
Not just virtual currencies, but RoboForex also allows investing in more than 20 metals. Some of which include platinum, palladium, copper, and nickel. This investment can well protect your hard-earned money from fast-paced inflation.
Cryptocurrency
In this category, you have a plethora of options to explore. Be it the most popular bitcoin or least explored stellar, this platform has something for everyone. Moreover, a few other valuable cryptocurrencies to feature are Binance coin, Solana, and Ethereum.
Related article: Ledger Wallet: Your Trusted Partner in Securing Your Crypto Assets
R. Stocks Trader – A Modern Software
RoboForex keeps bringing innovative solutions for traders of all interests. On these lines, they introduced a multi-asset software called R StocksTrader. Now, you can have more power and control over your trading assets and investments with the help of this software.
Moreover, the best part is you no longer have to skim through multiple platforms to access the global markets. Additionally, it helps you manage all your investments from a single place without compromising security.
There are almost 12,000 stocks to explore with top-notch analysis of all. It will help you make informed decisions and trade for the best possible consequences. Some other exceptional features of this software are:
Supported corporate actions like cash dividends, splits, mergers, etc.
Top-notch netting and hedging models
Watch Roboforex Review 2023 – Everything you need to Know
Automated Strategy Builder
RoboForex is constantly fulfilling its promise of providing services beyond trading opportunities. Automated strategy builder is one of these quality services that can immensely benefit strategic traders. Moreover, this feature can help you develop, run, and test unlimited plans in a few minutes.
It is beginner-friendly and far better than the platforms with complicated functionalities. Also, the prebuilt templates of the algorithm further ease your work. You just need to edit and optimise them, and everything will be ready. The best part is that you can try its demo for free without any restrictions.
Custom Watchlists and Advice
Besides offering extensive trading opportunities, RoboForex also cares about the profit-generating margin of its users. Due to this, you will find a lot of financial advice on this platform based on multiple factors.
For example, it will consider your financial situation, portfolio, and how you handle risks to generate suggestions for you. Moreover, you can trust the Roboadvising feature completely as it functions only on high-liquidity instruments.
Dedicated Customer Support
Many trading platforms promise to provide a top-notch customer support service. However, when it comes time for implementation, they fail. That's where RoboForex stands unique in the market.
You will not be left with an unanswered question with its trained customer support staff. Moreover, there are several mediums to contact them, including live chat, ticket system, or phone. Their contact number is +65 3158 8389.
Single-Click Trading
RoboForex first unveiled its one-click trading feature nearly a decade ago. It simplified the life of traders in multiple aspects. It is beneficial for streamlining the trading operations in the platform's MetaTrader 4 client terminal.
This feature helps you enter a preset volume position for every instrument. Also, it plays a major role in reducing the overall time required for an operational trading cycle.
Transparent Dealings
Since trading is a sensitive financial activity, choosing a platform with transparent dealings is crucial. So why not go for RoboForex? Here you can access everything upfront, including the charges and conditions for each financial instrument.
Moreover, the contract specifications table also features necessary data for every market in a detailed perspective. Here you can view everything, including 1 pip size, average spread, broker revenue per lot, and more.
Wrapping Up
Trading is a growing industry with many individuals exploring its potential. However, with broader scope comes greater responsibilities as it concerns your finances. Hence, choosing a trustworthy platform for your trade-related dealings is critical.
With many of them available in the market, RoboForex surely stands out with its exceptional features. From offering multiple trading opportunities to featuring robust software, it has all the potential to be your go-to trading solution.
So what is the wait for? Sign up now and trade your assets on a platform that goes above and beyond, allowing you to earn maximum profits.
What is the minimum deposit limit on RoboForex? 
To start trading on this platform, you must deposit a minimum amount of 10 US dollars in your account. However, it can vary depending on your account type, whether ProCent, Pro, Prime, or ECN. 
Will RoboForex charge any additional fee if I withdraw my profit?
No, it does not take a commission on any transaction or withdrawal you make. 
What payment methods apply to RoboForex?
You can add money to your Skrill or Neteller wallet via your Visa or Master card. Then, you can deposit your money into your RoboForex account from the wallet. However, this is not directly possible through your credit cards.