Do you want to step into the trading world without breaking the bank? Although many platforms are available on the internet, not all offer the promised services to their clients. Hence, a slightly wrong choice can put your finances at risk. However, you won't need to worry about such a situation when you choose Freetrade for your trading needs.
This platform got named the Best Commission Free Broker in 2021 by the Good Money Guide. Moreover, it enjoys several similar recognitions for offering secure and efficient dealings. The best part is you don't have to pay any commission on your gains. So all the returns are entirely yours.
All these exceptional features are available on the platform's basic plan. Now imagine how beneficial its high-tier plans can get, especially if you have a high-value portfolio. With that said, let's start discussing some of the essential Freetrade features that set it apart from its competitors.
Table of Contents
Low-Cost Trading
The primary reason behind people entering into trading is monetary gains. However, if the brokerage platforms charge extraordinary commissions, it can be challenging to achieve this goal. Yet, not anymore if you choose Freetrade.
Whether you want to invest in shares or ETFs, this platform allows commission-free dealings. Moreover, you don't need to pay the annual platform fees if you subscribe to the basic plan.
Even investors with expensive portfolios prefer Freetrade over other trading platforms. The primary reason is the flat fee on high-tier plans like Standard and Plus. Contrarily, other platforms charge almost 0.5% of the portfolio's value, which may be costly for higher-value assets.
Various Types of Investing Options
Although Freetrade has several investment options to explore, they may vary according to your purchased plan. For example, you can trade almost 1,500 shares and ETFs with a basic plan. These figures can increase as much as 6,000 if you have subscribed to the Standard or Plus plan.
In addition, you can choose from the shares based on several locations. The UK, the US, and Europe are the most prominent among these locations. Moreover, purchasing fractional shares is also an option if you are tight on budget.
It is especially applicable for US-based shares, which are relatively costly but equally profitable. However, the catch with this platform is that it does not allow trading cryptocurrencies or funds. Hence, you might need to search for another suitable place to target these markets.
Comprehensive Social Community
There are no doubts about how Freetrade has simplified trading, especially for beginners. In addition, this platform also features a community forum where you can connect with other investors. Moreover, you can exchange ideas and gain valuable tips and tricks from experts.
Three major categories to feature on its community forum include:
General investment-related discussions
Discussions relevant to specific shares
Queries regarding the platform
While the forum can immensely benefit traders of all levels, beginners can benefit the most from it. If you are just starting, you can ask questions, and highly-polished investors will answer them. Moreover, with the help of the Freetrade community forum, you can stay updated with all the latest trends and news in this investment universe.
Watch this video:
Range of Educational Sources
The more informed you are about trading and its related matters, the better decisions you can make. Considering this, Freetrade offers an extensive library of trading-related educational resources.
It might not be as robust, but it can help beginners develop their skills immensely. For instance, the regular stock market analysis provides insights into the performance of specific stocks in various markets. Moreover, it also tells you about the broader trends that significantly affect the market as a whole.
The platform's guide can also be handy if you want to learn more about investing. It covers crucial topics like proven investment strategies, how-to articles, and tips for portfolio diversification.
Top-Notch Security
As an investor, some of the few things you care the most about include the security of your finances. Hence, choosing a platform with authentic certifications is crucial to ensure your money is in the right hands.
In that case, you can completely trust Freetrade as the UK's Financial Conduct Authority regulates it. It ensures that the platform operates under strict industry standards.
In addition to this, Freetrade utilises third-party banks to hold all your trading funds. It means the clients' money is kept separate from the company's net worth. Hence, all your money would be protected and unaffected in case of any liquidation.
Mobile Phone Applications
Besides its web-based platform, Freetrade is also available on pocket devices. Whether you are an Android or iOS user, its easy-to-use trading application is available for all. Additionally, as a subscriber of the Freetrade Plus plan, you can also use the platform's desktop application.
One key feature that sets this application apart is the availability of automated trading tools. These include limit orders and stop losses, allowing you to perform conditional trades. For example, you can set a specific price margin to sell or buy any stock. Visit us to learn more.
Related article: Freetrade Review- A True Platform to the Trade World
Wrapping Up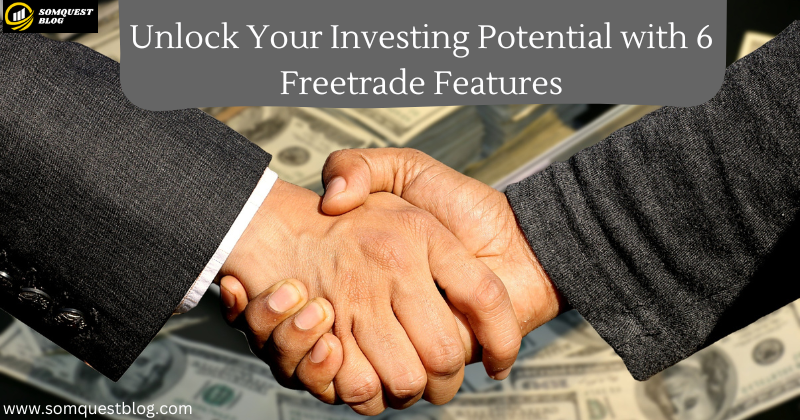 Trading is sensitive and requires a lot of vigilance from your side. While investing your money into the right stock is crucial, so is choosing a secure trading platform. Therefore, Freetrade can be your ultimate solution.
This platform offers various shares and ETFs for investors of all levels. Moreover, it does not charge any commission fee with the UK's high-grade authority regulating the platform. So, chances for financial breaches are also minimum.
What is the wait for? With so many exceptional features on board, create your Freetrade account now and start trading with little money. It is your chance to earn greater returns.
What is the minimum investment for trading on Freetrade?
Irrespective of the paid plan you opt for, the minimum fund required to start trading on Freetrade is 2 euros. You can open a general account and instantly invest in your desired stocks. 
Is day trading allowed on Freetrade?
Yes, you can perform day trading on this platform with a multitude of shares and ETFs. Its low-cost dealings make this platform one of the best for this trading type.
What type of accounts can I create on Freetrade?
You can invest in this platform by creating four account types. These include stocks and shares ISA, self-invested personal pension, ISA transfer, and general investment account.