Are you looking for a reliable and affordable payment processing and point of sale (POS) system? Well, Square Payment can be your best bet in this regard. Square Payment allows small and medium size businesses to accept payments from customers.
Also, the company allows using mobile phones or tablets as payment registers for a POS system. Its quick, easy-to-understand mechanisms ease the problems of all clients, mainly small and medium businesses.
Square Payments has flat rates and doesn't charge any monthly or annual fees from the customers. In this Square Payment Gateway Review, we'll explore Square Payment in detail. So, keep reading.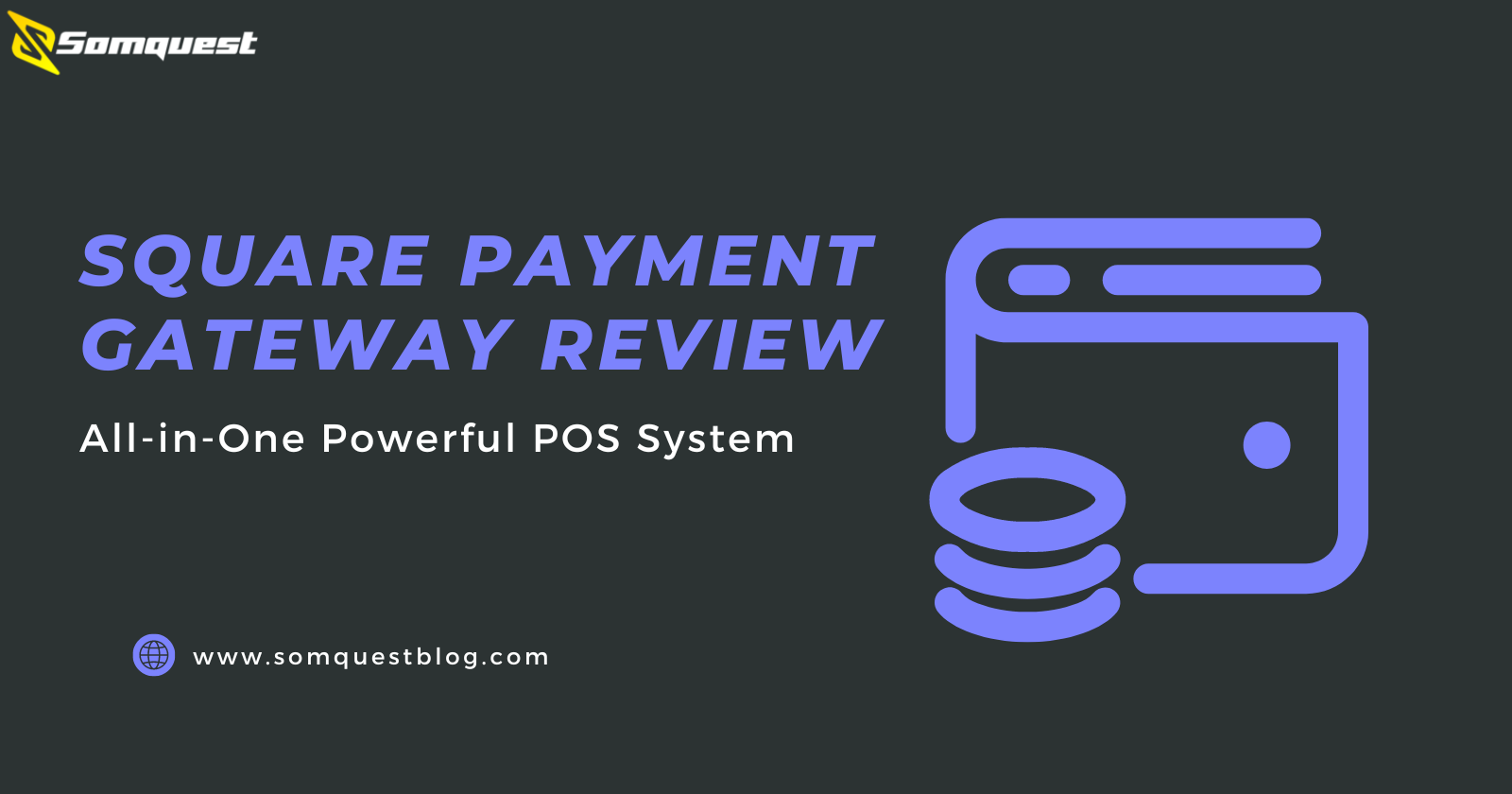 What is Square Payment?
Square Payment is a financial services platform founded by Jack Dorsey (also the founder of Twitter) in 2009. It is the first service that introduced the concept of payment processing using cell phones. Now, businesses can process transactions anytime from anywhere.
Square Payment not only eased the transaction processing but also eradicated lengthy application and approval processes. Moreover, Square's intuitive dashboard gathers all your business data in one place. Thus, you have everything available to make informed decisions about the future of your business.
Square Payment Gateway comes with an online store feature. It automatically connects to Square Payments and helps businesses charge from their customers.
Currently, it is helping more than 2 million businesses to charge fast and secure payments from their customers.
How Does Square Payment Work?
Square Payment is the best and most versatile tool for online credit or debit card payments or other payment options. There is no need for bank visits and account creation. Hence, you need to sign up on Square and start getting paid.
Here're different payment options using Square Payment processing:
Square Payment accepts credit and debit card payments for online and in-house POS sales
Automatic Clearing House payments are possible
It accepts E-Wallet payments like Apple Pay and Google Pay for all kinds of sales
Cash App pay is also possible for in-person or online service pays
It offers Afterpay Financing services where you get paid instantly while your customers can pay over time
It records and tracks sales for cash and paper check
Reasons Why We Should Use Square Payment Gateway?
Free Plan to Quick Start Your Journey
Square Payment benefits new sellers and small businesses due to its free plan. There are no hidden fees or charges. It facilitates you to pay only when you get a payment. You need to sign up to receive payments online.
Moreover, you can integrate Pinterest and Instagram. Also, you can upgrade your plan anytime according to business needs and add a shopping cart too.
Prebuilt Integration Capabilities
Square Payment has prebuilt integration capabilities with the world's top e-commerce providers. These providers include well-known names like Woocommerce, Wix, BigCommerce, Go Central Online store and Magento. WP EasyPay, a leading WordPress Square Payment solution, is also on the list.
A Reliable and Secure Platform
Square Payment is a trusted and reliable option for the security and safety of customers' data. It provides end-to-end encrypted protection that blocks all kinds of data breaches.
Even your server and devices cannot get any private customers' data. Moreover, data scientists and analysts at Square ensure excellent fraud management and fight your case on your behalf. 
Watch this video:
How to Set up a Square Payment gateway in your online store?
Setting a Square Payment Gateway at your online store takes seconds. Even you can build your store using Square website builder. Square Payment is available in the US, UK, Australia, Canada, and Japan.
Here's a step-by-step guide to setup Square Payment Gateway:
First of all, create a Square account.
Now reach to Payment from your Store Admin.
Tap on the square block and click on 'Connect and Enable Square.'
Log in and connect your account from the Square block again
Now activate your account by providing basic information about you and your business.
After activation, you can start accepting payments
There will be no monthly fees or hidden charges. You have to pay at the time of payment processing only.
Square Payment Pricing
Square offers a flat and easy-to-understand pricing structure. There are no startup fees, extra fees, or refund fees. Also, Square Payment pricing depends on the customer's payment type. There are three types of processing fees involved:
Card present
When a person uses their credit or debit card or swipes it in person, the processing fee is:
2.6% + 10¢ per transaction.
Card not present
For online purchases through a store, online checkout, e-commerce API, or through an invoice payment, the processing fee is:
2.9% + 30¢ per transaction.
Keyed in
For manually keying in card detail, the processing fee is:
3.5% + 15¢ per transaction
Pros & Cons
Pros
Easy to use, user-friendly interface
No monthly or hidden charges
Seamless and flexible POS system matching your business needs
Straightforward pricing at the time of payment processing
Cons
Medium customer support
Not suitable for large high-risk payments
Account instability and reports of frozen funds
Bottom Line
Undoubtedly, Square Payment is the top online payment player worldwide that does not require any complex approval process. Users can sign up and start receiving payment in a day or two.
Moreover, Square Payment does not charge monthly or hidden fees. The pricing structure is very clear and easy to understand. Thus, new sellers and small businesses can take advantage of Square's free plan to quick start their businesses.
Aside from zero fees, Square Payment includes features like end-to-end encrypted secure transactions, fraud prevention, integrations, and management tools. So, are you willing to exploit the benefits of Square Payment for your business?
Let us know how beneficial you think the Square Payment process is in the comments section. Visit somquestblog to learn more.
How is Square Payment gateway the best option for small businesses?
Straight forward fee structure without monthly or hidden costs makes Square Payment the best choice for small businesses. Its free plan allows you to start a business without any commitments to secure your financial future.
Name one reason why Square Payment is not suitable for large businesses.
Square Payment offers its customers a flat rate processing fee structure. However, for large businesses, it is not profitable.
Can we use Square Payment without a bank account?
No, Square Payment requires an active transactional bank account to work. Online or prepaid accounts like Paypal do not work with Square Payment.