Are you looking for a trusted wallet to keep your crypto safe for the future? The Ledger Wallet provides complete freedom from cyber theft and hacks and helps manage assets daily. It is a hardware wallet that stores and safe keep private keys. Since these keys are associated with your crypto assets, you can be the custodian of your own money.
Ledger wallets are device-based wallets using storage mechanisms such as USB drives to store private keys. Such storage mechanisms make it difficult for hackers to access them. Moreover, users can manage their assets from the Ledger Live app from a computer or smartphone.
Table of Contents
How to Manage Your Ledger Wallet
The Ledger Wallet has somewhat more sophisticated security than other wallets. It is the non-custodial wallet. Therefore, you are the only one who owns access to your private keys and funds. The Ledger Wallet contains a 24-word recovery phrase.
This recovery phrase is a backup to your crypto assets if you lose or misplace the device comprising keys. Since only you have access to the recovery phrase, you can't access assets back if you lose them.
So, you must be very careful regarding the recovery phrase. For the extra-cautious, you can engrave the 24-word phrase into steel in a Billfodl.
Billfodl is a device designed to hold your seeds and keys forever in a physical form. That's how you can securely and efficiently manage your assets with the recovery phrase's backup. Hence, if you're serious about the security of assets, this type of wallet is your best bet.
The Ledger Live to Manage your Assets
You can manage your Ledger Wallet by pairing it with Ledger live. Thus, you can make transactions after validating through your Ledger Wallet. The Ledger Wallet empowers you with ownership and ensures the trusted security of private keys.
You can access Ledger Live from a computer or mobile device anywhere without leaving your home's comfort. Hence, it is the most trusted option for the safe and secure storage of your crypto assets. You can download the Ledger Live app and safely interface with your Ledger Wallet.
Ledger Live Setup
Ledger live app is available for desktop, Mac, and Linux. It is also available for Android OS & IOS.
Ledger Live for Desktop
Installing the Ledger Live app on the desktop is extremely simple. You can do it by visiting the official Ledger website and navigating to download the Ledger Live page. Further, download and install the app by following simple instructions. There are three options when the software is up and running.
Setup a new device (Select this option if you just purchased a new device.)
Restore the device using the recovery phrase (Select this option if you are restoring from an existing wallet.)
Skip device setup (Select this option if you already have a configured wallet.)
You can use Ledger Live after unlocking your existing or newly configured Ledger Wallet. Thus, transactions are straightforward to carry out. Moreover, Ledger Live is beginner-friendly, and you can also take help from the support section.
Ledger Live for Mobile
You can download and install Ledger Live on iPhone and Android by visiting Apple's App Store or Google's Play Store. After installation and opening, you will see the following options:
Import your accounts from Ledger Live Desktop
Recover account using a recovery phrase
Use an initialised device
One good thing is that you can connect your hardware wallet to your mobile using an OTG cable. Ledger Nano X (a type of Ledger Hardware Wallet) offers Bluetooth capabilities. Hence, you can connect the device wirelessly by pairing it over Bluetooth.
Ledger Wallet Users
You might find it overwhelming if you have heard about all the thefts and hacks related to cryptocurrencies. Hot wallets are popular due to instant transactions, but Ledger Wallet is unmatchable regarding security.
It helps remove the anxiety of having your funds exposed to cryptocurrency hacks and thefts. Moreover, they offer something unique–keeping your private key offline.
With over four million+ users and 1.5 million monthly users of Ledger Live, the platform is highly safe for people. Therefore, people prefer safety from cyber attacks using Ledger Wallet. Ledger Wallet plays a crucial role in crypto trades thanks to its state-of-the-art components.
Ledger Nano S vs. Ledger Nano X
Ledger introduced Ledger Nano S in 2016. This wallet is the original wallet that integrates a certified secure chip. Nano S allows users to store between three and twenty applications.
Also, users can buy cryptocurrencies and secure and manage assets. Ledger Nano S Plus is the latest version with more memory and a bigger screen. Additionally, it supports up to 100 apps.
Pricing of Ledger Nano S
The retail price of Ledger Nano S is $79.
Source: shop.ledger.com
Ledger introduced Ledger Nano X in 2019. It serves a similar function to the Ledger Nano S. However, one good thing about Nano X is that it supports more applications (up to 100). Also, it comes with Bluetooth support to make connectivity further easy.
Pricing of Ledger Nano X
The retail price of Ledger Nano X is $149.
Source: shop.ledger.com
Ledger Wallet Features
Ledger Wallet is the safest platform worldwide as it securely keeps all the processing offline. Some of the exclusive features of Ledger Wallet are:
Ledger Wallets support 27 crypto coins and 1500 tokens. The most popular cryptocurrencies traded on the exchange are Bitcoin, Ethereum, Litecoin, Ripple, and BitcoinCash.
There is no restriction on deposits and withdrawals.
Own training programs and regular market analytics
Unique developments in the field of hardware wallets
Ledger Live is easy and convenient. Moreover, it is beginner friendly with simple functionality.
Final Thoughts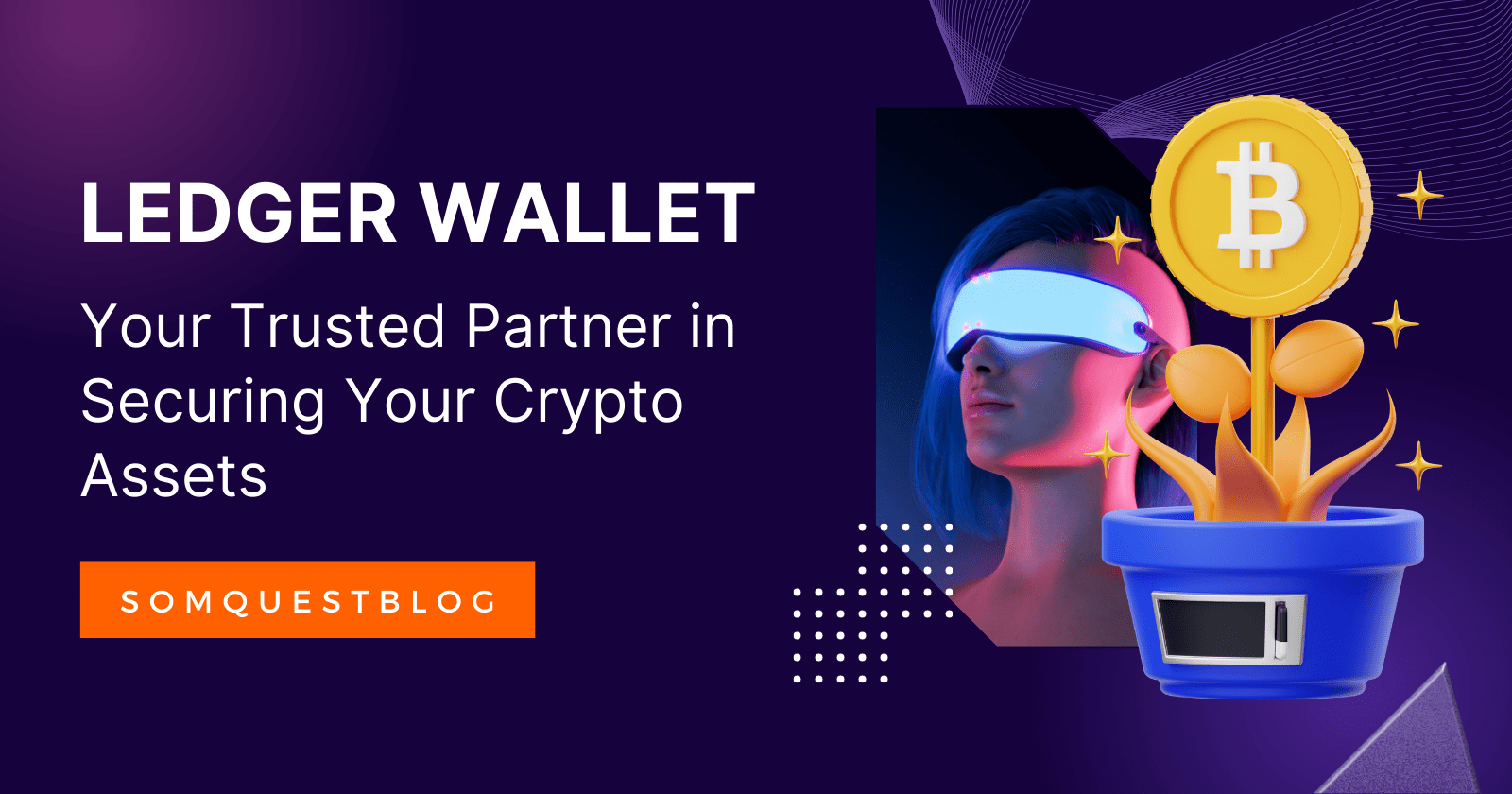 All Ledger products combine a secure element and a proprietary operating system. This system is exclusively designed to protect a user's cryptocurrency assets. Thus, Ledger Wallets are the most satisfactory security solution for securing and storing crypto assets. Even though it is not much agile as hot Wallets, it is the safest option for crypto traders.
With its excellent reputation and unshakeable trust, it is the favorite choice of people worldwide. What do you think Ledger Wallet will progress more in the near future? Let us know your thoughts in the comment section below. Visit somquestblog to learn more.
How do you think Ledger Wallet is the best choice for storing crypto assets?
The unique thing about Ledger Wallet is that it keeps the private key offline. Even the processing is offline, making it impossible for hackers to access it.
Can you use the Ledger wallet with other wallets?
The simple answer is yes! You can use the Ledger wallet with compatible third-party wallets.
Can you sell Bitcoin for cash using Ledger Wallet?
You can cash out your Bitcoin using exchanges or Ledger Live and move it to a bank account. However, one restriction is that you can only transfer to a bank account you previously used to buy cryptocurrency.