Are you thinking about launching a new website? Are complicated web builders that require coding giving you a tough time? In that case, one platform that can take the hassle out of your web development venture is Ucraft.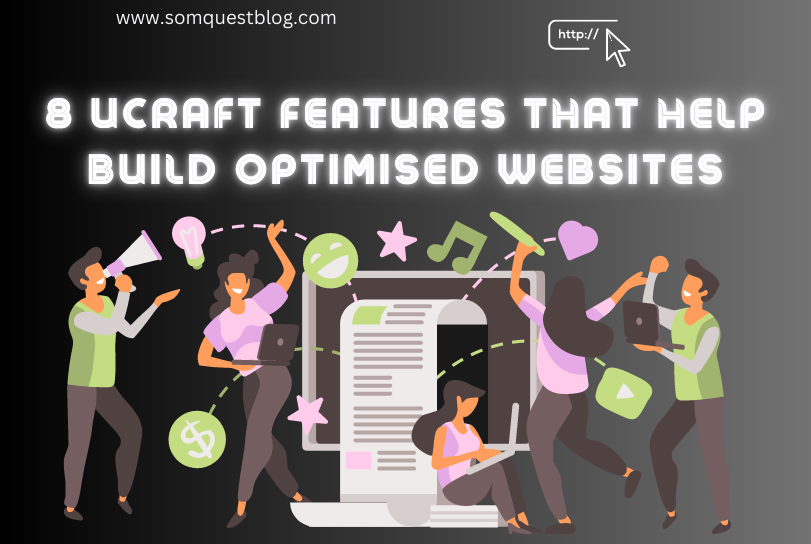 It is a one-stop shop for all your website-building needs, from creating multilingual websites to offering several customization options. It offers free hosting for all the websites that Google Cloud hosts. Moreover, the paid plans are highly affordable and perfectly fit your budget, even if you are just starting.
Although this platform has many features, we will discuss some of the most useful ones in this article. So let's get started with it.
Website Editor Features
In this section, we will briefly discuss a few crucial features Ucraft offers for streamlining web editing, especially for beginners.
Multilingual Interface
Is your target audience based all around the world? Then it is essential to implement an interface that automatically translates your website's content into the visitor's local language. It plays a huge role in increasing user experience.
When you edit your website with Ucraft, this feature will be present from the beginning. Applying it takes just a few clicks, and your website will be ready to translate into several languages.
Access Control
Ucraft allows you to provide access to your team members based on their roles. For example, a marketer cannot edit your site's content. Similarly, an editor can not perform administrative tasks.
Some of the roles that you can seamlessly assign include:
Editor
Marketer
Billing admin
Admin
Designer
Through this, it is possible to prevent unauthorised access to your web content. So there would be fewer chances of data breaches.
Different Modes
When your website is under construction, it's crucial to inform the users that it's down only for a short period. So that they'll know when to visit back to access your services. Hence, you can conveniently do this by incorporating the Ucraft offline mode.
It is also possible to leverage the preview mode to see how your website appears to visitors. Several sub-options feature website previews based on different devices and screen resolutions. This way, you will have a better idea of the scope for improvement.
Lead Generation Tools
The Ucraft website builder features robust lead-generating tools to simplify data collection. For example, it allows the creation of customisable forms or subscription elements that you can embed on your website.
The form includes basic fields for collecting information from the visitors, like their name, email, contact number, etc. You can then use the data for targeted email marketing campaigns, maximising the chances for lead conversion.
Web Designing Features

Once you've built your website successfully using the Ucraft builder, the next step is to design it for better UX. Let's briefly overview the web designing features of this platform below:
Adaptive Website Design
While a website's interface may be adaptive to web applications by default, most of them aren't mobile-friendly. According to a survey, 50% of users will use a website less often if its interface isn't mobile-friendly.
Hence, ensuring your website is optimised for different screen sizes and device types is very important. So more new customers will visit while retaining the previous ones. Thus, all the Ucraft websites are 100% flexible and will adjust their interface according to the visitor's screen. 
You might like to read: How to Easily Create a WordPress Website Using Elementor
Customisation Options
Ucraft features almost 100 pre-designed blocks for different sections of websites. Using the platform's designer tools, you can customise them to align with your brand. It lets you adjust the layout's typography, colour, and other components.
Moreover, the expanded text editor allows personalisation of the style in which text will appear on your website. You can choose from headers, indentations, and lists. Besides that, Ucraft also has a system page customiser. Through this, you can design and imply offline and 404 error pages at your fingertips.
Finally, the secondary but valuable customising option that Ucraft presents is its effects. This feature allows you to seamlessly apply different animations like parallax, rotate, affix scrolling, or fade-in.
E-commerce Features
This platform can be an all-in-one solution for digital store owners with its exceptional e-commerce features. Let's overview them briefly.
Easy to List Products
From digital to physical, you can sell any product on the website Ucraft will build for you. It allows straightforward product catalogue upgradation through CSV files. Using this, you can seamlessly import and export your selling items to your website.
Additionally, it also has an inventory tracking feature that helps you monitor stock levels. So you'll know when to restock the items.
Secure Checkout
Your customers will trust you more if your website has a layer of security to protect their data. It is vital if you run an e-commerce store, as your website will store sensitive details like credit card information.
In that case, Ucraft offers a socket security layer on every page of your website, starting from the homepage till when the customer checks out. 
You can also read t learn more: Unbounce Review- The Top Landing Page Builder In 2022
Wrapping Up
The features of Ucraft extend beyond what we have outlined in this article. It won't be wrong to call this platform an all-in-one web solution that offers all the essential tools in one place. From launching and designing your website to marketing it amongst targeted audiences, Ucraft has something for each activity.
The best part is that its plans start at just $11.76 monthly, so even small businesses can leverage its exceptional features. So don't wait much and get the plan according to your needs. Ucraft is awaiting you to offer a unified and feature-packed web-building experience.
How many payment methods are available at Ucraft?
There are more than 50 payment gateways to choose from. These can accept both PayPal and credit card payments. 
Which marketing tools does Ucraft features?
There are several marketing integrations available on this platform. Algolia, Typeform, and MailChimp are to name a few. It allows the creation of powerful email marketing campaigns and generates maximum leads. 
Is Ucraft for SEO?
Yes, there's an SEO tool that lets you improve the search engine rankings of your website. It performs this action by providing a meta title and description for each page. Additionally, the automatic image optimisation also functions as a robust SEO tool.