Are you tired of trying different e-commerce platforms with complicated interfaces? It means that you still haven't come across Sellfy. This platform offers the easiest selling of products on social media, websites, or storefronts. Moreover, the endless customisation possibilities ensure that your store remains brand-centric. Also, there are marketing tools to level up your promotional tactics.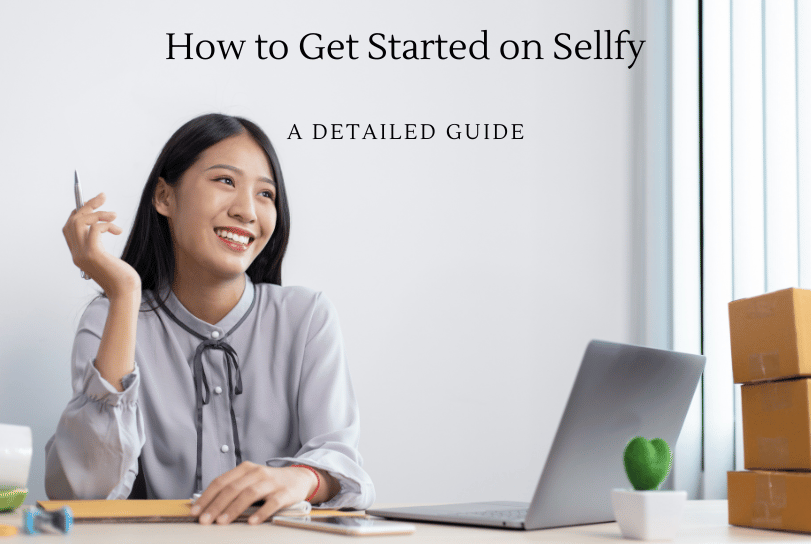 With that said, let's dig deeper into how to get started on Sellfy. This detailed guide will simplify things for you, so you can get your store up and running in just a few minutes. So, without wasting your time, let's get started.
Table of Contents
Setting Up Your Sellfy Account 
We highly recommend you try the Sellfy free trial before investing money. It will help you make an informed decision as you will know whether the platform suits your needs. Now, to get started with the trial, you must first create an account.
To proceed, you have to enter a few things, like your name and email address. Moreover, the password you create must also be strong. After completing this step, the platform will send a verification link to your email address. And verifying it promptly is essential, as you won't be able to upgrade to a paid plan without it.
How to Add Products on Sellfy 
After successfully creating your account, you can immediately start adding products to the store. It is a straightforward process which you can clearly understand through the below steps:
Upload your product: The first step is to select the relevant category and drag and drop the product file into the upload area. Moreover, you can also choose the Browse from Computer option to complete this step.
Add product-related details: Once the product is uploaded, it is time to add some details regarding it. For example, you can add a concise description to let customers know what to expect from your selling items. Also, do not forget to set the price. Finally, save the product, and it is live in your store.
How to Customize the Sellfy Store 
Customisation is unimportant if you embed a Sellfy store on your existing website. However, the personalisation possibilities are endless for sellers who plan to use this platform as their storefront. Let's briefly overview them:
Sellfy Themes
If you have no coding knowledge, do not worry, as Sellfy offers several pre-built themes. Its extensive library is full of multiple designs, and you will definitely find one that matches your brand.
Now how do you set your desired theme on your Sellfy store? Again, the process is quite simple. Visit the Store Customiser section and select its General Settings. You can choose and apply any relevant theme in a few seconds.
Moreover, it displays a proper preview of the theme in another window to help you make a satisfactory decision. You can also make changes to the theme's design to make it more brand-centric.
Sellfy Pages
Do you want to add customised pages to your Sellfy store? No need to navigate through other tools as this platform provides a comprehensive feature to fulfil this task. Page Settings can create different pages and allow customisation through various modules.
For example, there is a text panel where you can add written content anywhere on your store's pages. Moreover, it lets you incorporate newsletters and contact forms to maintain better customer relationships. This factor has a direct effect on your lead conversion and sales rate.
How to Connect the Payment Method on Sellfy
Once you are completely satisfied with how your Sellfy Store looks, the next thing to do is integrate the payment methods. Currently, the platform allows only two payment gateways, including Stripe and PayPal.
To add payment methods, visit Payment Settings in the Store Settings section. The best part about the payment procedure of Sellfy is that you do not have to wait days for payouts. Moreover, after a customer successfully checks out, it transfers all your earnings to your account.
Subscribe to a Paid Plan – Sellfy Pricing
Remember that the Sellfy free trial will only last for two weeks. After that, the platform may suspend your store if you fail to upgrade to any paid plans. With that being said, let's briefly discuss what each plan on this platform has stored for you:
Starter
This plan will suit your likes if you are a solo entrepreneur or artist selling digital, physical or print-on-demand items. Its cost is around $19 per month.
Business plan
Starting at $49 per month, the Sellfy Business plan is for you if you seek bigger sales volume. It allows the creation of a white-label store removing all the traces of Sellfy branding.
Premium plan
The Premium plan will cost you $99 monthly with exceptional features like priority support, 50,000 extra email credits, etc.
Wrapping Up – Sellfy Review
With its extensive features, Sellfy can serve as your all-in-one e-commerce solution. Moreover, getting started on this platform is also not a complicated task. Follow a few steps, and you will be ready to make sales like never before, thanks to its marketing tools.
We hope our detailed guide will help you set up your account, upload products, and customise the layout conveniently. So what are you waiting for? Sign up at Sellfy now and take your e-commerce strategies to the next level. Visit us to learn more.
Does Sellfy offer any marketing tools?
You can find various marketing features on the platform to achieve better sales. Some of these features include upselling, email marketing, cart abandonment, SEO, etc. 
How to upgrade to a Sellfy paid plan from the free trial?
Simply navigate to the Billing section from Account and select your desired plan. Now enter your payment details and click Upgrade to enjoy the additional features. Moreover, you can also downgrade or upgrade the paid plans by following a similar step. 
What is the yearly revenue limit on Sellfy?
The annual revenue limit varies according to the type of your subscription plan. For example, the Starter plan is $10,000, and the Business plan is $50,000. Similarly, with the Premium plan, you can earn up to $2000,000. 
How to get sellfy items for free?
Supporting creators by purchasing their work is crucial for their livelihood. If you're interested in freebies, keep an eye on creators' social media accounts or newsletters, as they often share promotions or limited-time giveaways.
Is sellfy legit?
Yes, Sellfy is a legitimate platform. It provides a marketplace for creators to sell digital products such as ebooks, music, videos, and more. However, it's essential to be cautious and purchase items only from reputable sellers to ensure a safe and secure transaction.