Are you looking forward to creating a great first impression with your beautifully designed website? It would be difficult for you to build a top-notch site if you don't have previous design experience. Let's cut a long story short; that's where the WordPress Elementor website builder will help you.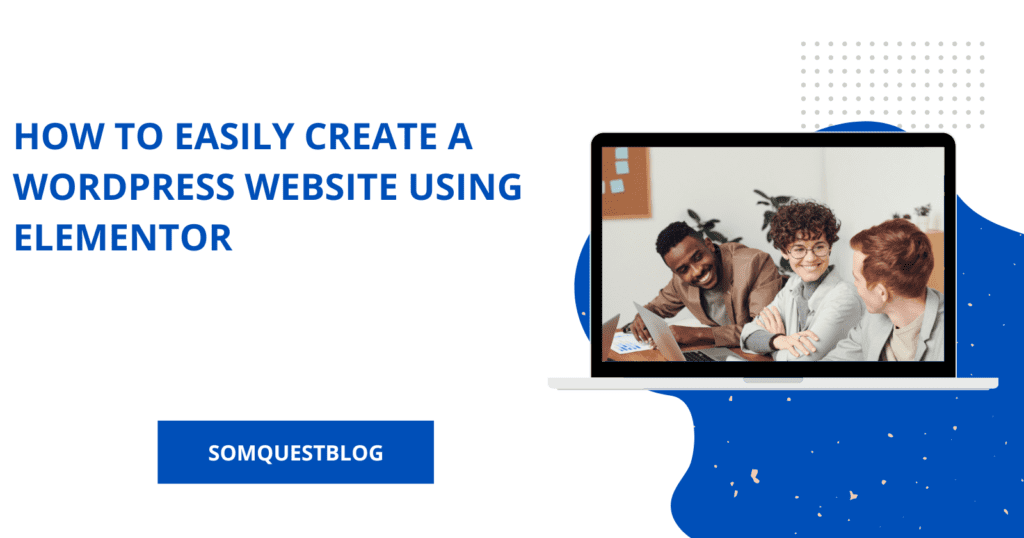 You can create a stunning website without writing a single line of code by opting for this user-friendly plugin. It was decades ago when creating a website involved alot of effort. Stick around; this article will step up your game by getting you to know how to install Elementor in WordPress.
Is Elementor suitable for beginners?
If you want to create a website, Elementor is perfect for you, even if you are a beginner. The Elementor is easy to use, and its interface is also simple. Elementor is the leading website-building platform that enables you to build perfect websites with an intuitive visual builder. You need to use it correctly as if it is misused; this powerful tool can break things.
What is Elementor?
The Elementor Plugin is a drag-and-drop page used to build WordPress. It is designed to help you create beautiful pages and dynamic websites with a visual editor. Enhance background images and customise your website with motion effects and multiple fonts. It will let you control every part of your website design as it is an all-in-one solution.
Through this article, you will learn how to create layouts pages, Elementor Templates, and other essential tasks. Do not panic if you don't know coding to build engaging websites. Through page builders like Elementors, you can create any WordPress website you want. Learn about Elementor and make a stunning website.
Why Should You Use Elementor?
All types of professionals use Elementor. It is a top choice platform for WordPress website builders possessing custom attributes, rollback versions, and script optimisation. This visual editor allows you to choose from 90+ widgets to create content. It includes buttons, star ratings, and progress bars.
This one platform gives unlimited web creation. You can get pixel-perfect designs while having website kits and a templates library. The Elementor is a fully responsive and fast-loading website promoting accessibility with accelerated creation workflow.
Watch this video:
A survey was conducted in Sweden in 2022; Elementor showed a ratio of 5.06 per cent to using WordPress theme technology. Elemnetor is the best option if you want to know how to build a professional, pixel-perfect website. Get control over every piece and quickly create websites, even if you do not know to code.
How to Install Elementor in WordPress?
Elementor is a page builder for WordPress, and you can use it without being a coding wizard. It has replaced dozens of other plugins, helping you to design beautiful wizards. As a beginner, you have to learn the basics first. You would be able to use the tools like a pro. Install this user-friendly interface from these steps, and design your website quickly.
Login to the WordPress dashboard.
Go to Plugins
Click the option, Add New
Type in Elementor in the plugin search bar and press the enter key
Click Install Now when the Elementor page builder populates
After choosing the Activate button, they will redirect you to the Elementor page.
Now the Elementor's core plugin is installed. You can enjoy this free version.
How to Use Elementor in WordPress
You can use Elementor in WordPress and turn your desired design into reality. Firstly, get familiar with the essential Elementor workflow. This article will tell you about Elementor Editor, Elementor Tutorial, and Elementor Templates. Let's not beat around the bush and explore how to use Elementor in WordPress.
Elementor Editor
Turn your design vision into reality by using Elementor. You view each element as if you have designed it. An intuitive design is offered to users by Elementors. Learn the basics of the editor in these simple steps:
Get started by creating a new page, then click Edit with Elementor.
The Elementor page editor will be opened, showing your page's look.
To build your web page, you can use the drag-and-drop features from the Elementor sidebar.
Understand the three main building blocks of the Elementor. They are Sections, Columns, and Widgets. The most significant building blocks are Sections, adding groups of Columns in Sections, and adding Widgets within Columns.
Highlight Sections and Columns in a blue box and draw a widget.
Drag the widget to the desired area.
Search for various widgets to customise your pages. Opt from basic to advanced elements, like image galleries to animated headlines.
Set the default colours and fonts of your pages. Click the hamburger button, then click on the Site settings.
Under the Actions tab, trace your changes. Under the Revisions tab, you can revert to your previous settings.
How to Build Your Own Page in Elementor
Elementor is so easy to use, and no coding skills are required. That's the reason Elementor stands out from its competitors. You can build your first page on the platform.
Go to the WordPress dashboard.
Click pages, then Add New.
To enter the page builder, click Edit with Elementor.
Add a heading, Image widget and Text Editor.
Drag it in place, and edit each widget to our choice. By clicking the Publish button, your first page in Elementor is built.
Once you are done designing your page, preview it by clicking the eye icon and publish it by clicking the print button.
Elementor Templates
Elementor Templates are pre-designed pages and blocks helping you to design your WordPress website. These pages have complete content layouts. Blocks are pre-built widgets with sections having footers, headers and FAQs.
You get a license to use Elementor Template for your business. Specific templates can be searched by page type, template name and tag. These templates can be inserted into any page with one click.
Inside the Elementor editor, Go to the bottom of the page. Click on the white folder in a section called Add Widget here.
A library will open, and you can preview a template. Click on the magnifying glass or the image.
Click on the green insert button.
Once you register or sign in to the Elementor, you will be connected to Elementor Template.
Go back to the page where you were doing the editing and insert your desired Elementor Template.
Your Template is ready and ready for customisation. Now you are accustomed to the essential Elemetor workflow, and you can design some new pages.
Pros and Cons
Pros
Easy to use.
This one plugin has advanced features.
Customisation is effortless.
The price is very reasonable.
Integration Capabilities.
Responsive designs according to the mobile, desktop, and tablet.
Cons
Site speed issues
Significant updates cause glitches.
Slow customer support
The learning curve for beginners
The Final Call
There are always some downsides to a tool, as no tool is 100 per cent perfect. With this honest review, you may know what Elementor is. Building a website in the early days required design skills and was time-consuming. But now, create a high-performing website through Elementor.
No doubt, besides being one of the best WordPress page builders using a single platform, you can control all aspects of your site. If you have queries or want to share an experience with us, we are just a comment away! Visit somquestblog to learn more.