Are you looking for a web hosting provider that offers speed, security, and expert support in one package? Then, look no further than Nexcess. This service provider can optimise your e-commerce store or content-based website for higher performance.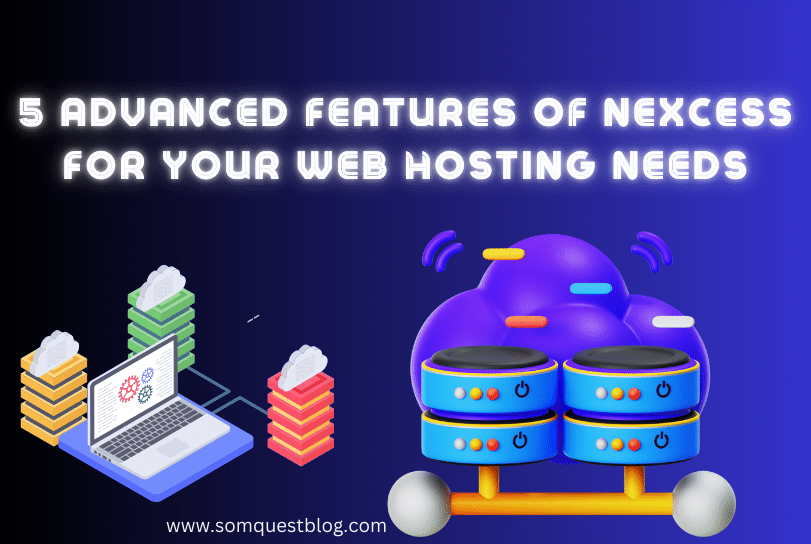 You can find all the basic features like worldwide CDN, daily backups, and 24/7 support in all its plans. However, what sets this hosting provider apart is some advanced aspects that can take your website to the next level set this hosting provider apart. So without delaying it further, let's start our detailed discussion of those features. 
Table of Contents
Auto Scaling
Is your website unable to deal with the unpredicted traffic surges and crashes down often? If yes, you're not alone; this issue is common with fast-growing websites. Fortunately, an easy solution is available, which is this hosting provider's auto scaling feature.
Nexcess can instantly activate a scaling event when your site's user capacity reaches its maximum. Since it monitors your website 24/7, you don't have to worry about traffic surges at any hour.
What most users love about this auto scaling feature is its compatibility with all the major hosting platforms, including:
Magento cloud solutions
Flexible cloud hosting
Managed WooCommerce
Regardless of your plan, you'll get 24 hours of monthly auto scaling for each website without additional costs. However, if you surpass this limit, the platform will charge $0.10/minute for each increment of half an hour.
Cloud Accelerator
Did you know 40% of visitors will leave your website if it fails to load within 3 seconds? That's how important speed is for lead conversion. You can hand this task to Nexcess Cloud Accelerator and relax, knowing no customer will bounce back from your site.
This tool is a layer of abstraction present in front of the cloud stack. Its primary objective is to enhance the load times and maintain the high-performance status of your website.
Besides optimising the speed of your digital store, this feature is also responsible for a few other beneficial factors. For example, it can efficiently manage the existing users on your website even if you don't upgrade the plan.
The best part is that you don't need to perform any additional installations to implement this feature. It is activated by default within your account. Moreover, you can turn it off with a single click by visiting the Client Portal.
PCI Compliant Hosting
When running an e-commerce store, you'll have a lot of sensitive information on your website. It specifically involves the credit card details of your clients. Keeping this data secure must be your priority to ensure a better customer experience. It is also crucial from a legal point of view.
In that case, Nexcess can immensely help with its PCI compliance feature. However, what does this refer to? It's a security parameter that lets the buyers know your services are up to industrial standards, especially for payment-related affairs.
Irrespective of your hosting solution, this hosting provider will give you the PCI DSS Level 1. Additionally, you won't be alone in this journey, as the Nexcess experts will guide you throughout. From securely setting up your store to managing access control, their comprehensive guide will help you drive better outcomes.
Free of Cost Migration
If your current hosting provider isn't functioning up to your expectations, it's time to make a shift. Yet, are you afraid of the hefty server migration costs? Don't worry. Nexcess can take care of this.
Not only does it offer free-of-cost website migration, but it ensures that experienced professionals manage everything. Besides being 100% free, the migration process is quick. It eventually means that your website will experience minimal downtime during the switch.
Some other migration features include:
The professionals on this platform follow a comprehensive checklist of your website's special attributes during migration. So, all the components of your site will stay intact once the server-to-server shift is done.
Nexcess spots and resolves the cyber security risks before migrating your website. All its data security features are enterprise-grade, so you don't have to worry about any malware attack.
Free Domain Name System
A website's hosting structure is based on several crucial components, and DNS is one of them. DNS is simply a phonebook of the internet that links web browsers with websites. Through this system, you can enhance your website's visibility so visitors can easily find it. It eventually means more traffic and lead conversion chances.
Nexcess has a solid network of 15 DNS servers worldwide to cater to all its users. Remember, the distribution of these servers is not random. Instead, they are placed strategically so all visitors can access your store regardless of location. Nexcess offers this service for free to all its clients.
You might love to read: Unbounce Review- The Top Landing Page Builder In 2022
Wrapping Up
Nexcess's services extend beyond providing multiple web hosting plans. Instead, it offers multiple exceptional features to enhance the security and performance of your website. From PCI compliance to free migration, the user-benefiting features of this platform are endless.
The best part is that you even get a money-back guarantee of 30 days. So if you don't like the services, you can get a timely refund. What's the wait for? Select a suitable Nexcess hosting plan now and streamline your web performance now.
FAQs 
How much does Nexcess-managed WordPress hosting cost? 
Nexcess offers plans for all businesses, irrespective of their size. Hence, you can find a range of managed WP pricing plans, ranging from $19 per month to $449.5 per 3 months. 
Is there any Nexcess control panel?
Nexcess has a feature-packed control panel titled Client Portal. The features are almost the same as the Cpanel, but the interface has a small difference. Additionally, this hosting provider also integrates advanced technology options in its portal, which might not be present anywhere else. 
What is the main product of Nexcess?
Nexcess is an all-in-one hosting platform that offers multiple services in one place. Some of its products include flexible cloud and enterprise hosting. However, it's the managed hosting package that takes the cake. It offers this hosting type for major platforms, including WordPress, Magento, etc.