Are you struggling to compete in the crowded digital marketplace? Do you wonder how your competitors are constantly ranking high on search engines? If so, you must uncover the secret formula of their success, and SpyFu lets you do that. Using this platform, you can gain insights into your competitor's marketing strategies, including PPC and SEO campaigns.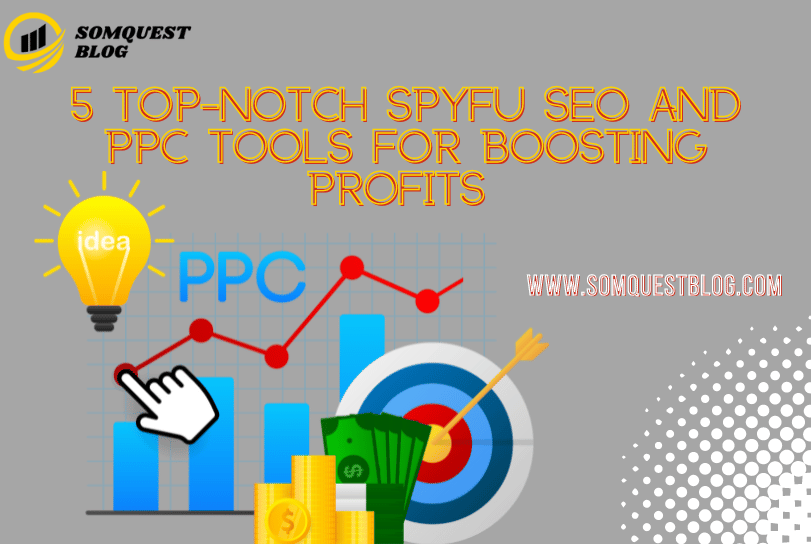 This information will help you connect more with the top domains in your niche. Hence, you can unlock fresh opportunities for growth and success. Let's not delay further and dig deeper into the functionality of some important SpyFu tools.
Table of Contents
PPC Tool
Investing in Google Ads and getting minimal or no ROI can be frustrating. However, there is a solid solution to this issue within SpyFu that you might be missing. This platform's PPC tool offers detailed insights into the advertisement strategies of your successful competitors. Implementing that, you can also run revenue-driving campaigns so all your spent money becomes worth it.
This tool functions in two significant ways. Firstly, it tells what high-ranking keywords are missing on your site. You can generate ad copies by incorporating them for better outcomes.
Secondly, this SpyFu PPC tool is capable of displaying the following metrics:
Paid keywords of your competitors
How much are your competitors investing in their ad campaigns
Highlights that provide a clear direction for further research
Sets of keywords with their strengths and weaknesses
Keyword Research Tool
Next on our list is the SpyFu keyword research tool. It can help you discover the ranking potential of keywords you incorporate in your web content. Not only this, but it also displays multiple relevant parameters.
Here's a list of some of them:
Top ranking domains
Mobile vs. desktop SEO rankings
Other optimization stats like search volume, keyword difficulty, etc.
Metrics related to PPC
FAQs correlating a keyword for Featured Snippets
The best part about this tool is that it lets you search all the above metrics, even for a single keyword. Meanwhile, that for millions is also possible. All you have to do is type the keyword/s into the tool's search box. The results will be displayed on your screen in a few seconds.
Backlinks Tool
Incorporating authentic backlinks into your web content is as vital as using keywords with high search volume. One way to do so is by evaluating your competitors' links. However, this one-way approach might not guarantee success all the time.
Hence, say goodbye to the conventional method by using the SpyFu backlinks tool. On this platform, you just need to enter your target keyword, and it will display a list of related links. Utilising them will maximise your chances of surpassing the top-ranking domains in your niche.
Moreover, all the backlinks this tool displays are of high quality. So, there'd be no chance of putting your site under hot water due to spammy or duplicate links. Besides this, the SpyFu backlinks tool helps discover shared links of your competitors that might be hidden.
Reporting Tool
Many tools offer SEO reports so you can analyse the performance of your campaigns and improve accordingly. SpyFu is also the same. However, one thing that makes it unique is that this platform offers a similar feature for your PPC strategies.
It features a separate report generator for Google Ads metrics. Using it the right way, you can improve your digital business's turnover. The higher clicks you get, the more dollars your site will generate.
Moreover, this reporting feature is also useful for top-notch sales pitches so you can convert more leads into loyal customers.
In addition, it also lets you generate reports that focus on a more targeted perspective of your site. Using this SpyFu tool, it is possible to review hyper-focused keywords rather than your website's overall organic performance.
SEO Research Tool
The SpyFu SEO research section's capabilities go beyond tracking your site's rankings. Instead, it offers actionable insights so you can improve your SEO strategy. However, the question is, how does it perform this task so seamlessly?
This tool analyses the pages related to your competitors and then identifies flaws that lead to their failure. Using this valuable information, you can improve your website's content so that you don't have to face any drop in rankings.
Additionally, this tool helps you closely monitor similar websites in your industry. It enables you to stay updated on the latest trends and developments so you can modify your tactics accordingly.
Furthermore, it works on a unique mechanism. Many SEO experts consider front-page keywords crucial. However, this tool lets you focus on those about to break into the top 10. This approach has been proven to help businesses achieve significant gains in ranking and search engine visibility.
Wrapping Up
Effective online marketing involves a combination of two major strategies, including search engine optimisation and pay-per-click. You can increase your site's organic traffic and boost sales by prioritising both.
Fortunately, SpyFu offers a comprehensive suite of tools for the seamless execution of both approaches. With this platform, you can optimise your web content for search engines and craft PPC campaigns that drive better conversions. So don't wait long; try SpyFu today and watch your online presence soar. Visit us to learn more.
FAQs
How many subscription plans does SpyFu feature?
There are a total of three paid plans on this platform. The Basic Plan offers core SpyFu tools; subscribers can search as many keywords as they want. Then, a Professional Plan provides more detailed insights into SEO and PPC stats. Moreover, the platform features an Unlimited Plan for large enterprises and agencies to access all the features. 
How to contact the customer support team of SpyFu?
You can email them at support@spyfu.com or call 480-409-0462. Moreover, there is also a live chat feature on the platform's official website. 
What are SpyFu PPC negative match recommendations?
This feature allows you to spot costly keywords on your account that your competitors tried but failed. You could easily exclude those from your PPC campaigns and save your investment going void.