Do you want to grow your business by using an email marketing strategy? Constant Contact helps promote your products or services and nurture customer relationships. It helps small business owners to manage and develop their online platforms.
Hence people around the world select Constant Contact to boost their business to the best possible levels.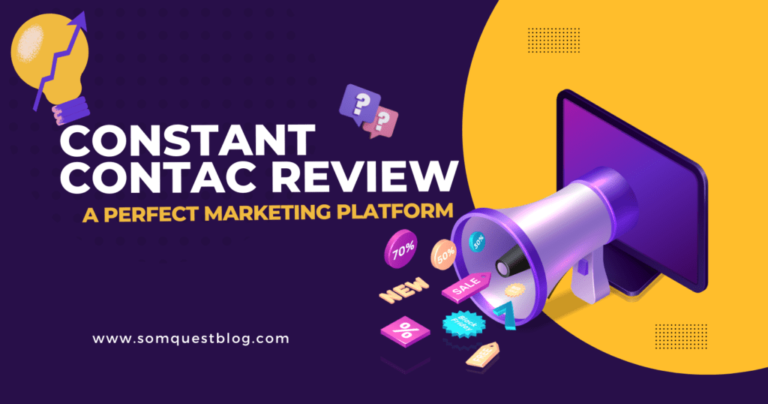 You can drive your sales, streamline, automate and encourage the audience, and track anything from one easy-to-use platform, i.e., Constant Contact. If you want to use a risk-free, easy-to-use service for your small business, read this article to learn how Constant Contact work.
What is Constant Contact best for?
The primary concept of Constant Contact is to help your business create emails, websites, online stores, and much more. It is best for small business owners because its robust features enable them to get online business platforms. You can better and boost your business quickly with Constant Contact on your side.
What is Constant Contact?
Constant Contact is an online marketing company founded in 1995 by Randy Parker. It is an email survival provider. Its main aim is to revolutionise the success formula for small businesses and organisations. It enables business owners to launch, monitor email marketing, and build websites and online stores while utilising social media.
Constant Contact uses email marketing because email marketing is still the most effective online marketing tactic. One could be beneficial as the number of global email users continues to grow.
Finding the perfect email marketing solution is challenging. Constant Contact is the solution for finding a balanced, effective system for small business owners.
Constant Contact offers small businesses the flexibility of sending a large number of emails to contact in a list. It provides transparent reporting and integrates with renowned business applications.
It features an easy-to-use email builder along with helpful customer service.
Why Use Constant Contact to Enhance your Email Marketing?
When you start your business, you face hindrances to creating a successful email marketing campaign. Days pass, and you are still waiting for a reply from a single mail. Email marketing remains one of the most effective ways of reaching existing and prospective customers.
There is also room for improving email marketing methodology. To enhance the effectiveness of email campaigns, small business owners should consider Constant Contact. Constant Contact integrates with popular business applications and features an easy-to-use email builder.
To enhance your email marketing, enhance the feature. Make your subject to the point and your line compelling. Besides, make your emails mobile friendly.
Constant Contact Logo
Logos play a fundamental role in any marketing. A bitten apple is a symbol of modernity and technology. Apple and Nike pour their branding efforts into the central image, i.e., their logo. The logo is the identity of a brand or any business.
While having a Constant Contact website, you can build a Constant Contact logo for free. All you need is to download any plan and learn to create it. The logo designing process requires creativity with trials and errors. It represents your target audience. 
A single image represents the Constant Contact logo. The best logos are the simpler, the unique, the most recognisable, and the most relevant.
It would help if you kept the future in mind while designing the logo. You can achieve one of the finest Constant Contact Logos by applying certain principles.
Constant Contact Pricing
Constant Contact pricing might be competitive. Constant Contact is an expensive tool, but it offers discounts if you avail of its service for extended periods. It is indeed one of the best tools, but you must double-check the facts beforehand.
The core plan is aimed at small organisations, for those who send champions everywhere without needing email marketing automation. It is a bit costly like if you have a list of thousands of contacts, your Constant Contact pricing will increase automatically.
Constant Contact pricing is based on monthly. As a marketer, you intend to use customer information for the right person at the right time. Constant Contact does its job without complaints, thereby justifying its pricing.
Constant Contact VS MailChimp
When you choose an email marketing tool, you need to have the best one. There are many email marketing tools in general. Let us go for a comparison between Constant Contact VS Mailchimp so that it would be helpful for many of the readers to decide what they really want.
Pricing
If we talk about the pricing, the Constant Contact plan pricing befalls between the standard and premium versions of MailChimp. But if you start from scratch, Mailchimp is better than Constant Contact. 
Design
The design of the email builder of Mailchimp is way much more accessible. Besides that, they have added much-needed features, including the editing feature. Mailchimp offers more A/B testing variations and advanced automation.
Templates
Constant Contact has several ready-to-send templates. They are perfect for beginners or someone with little to no design ability. There are themed templates for many occasions. Constant Contact reporting is more superficial and straightforward, while Mailchimp has extensive features.
Pros and Cons
Pros
Easy to use platform
Ready-made email templates 
Social media integration and easy-to-set-up automation
Better responsive design 
Best social media marketing tools
Customer service has always been supportive
Cons
Limited ready-made template 
Higher service price than its competitors 
Limited customisation of automation and templates.
Limited storage of only 1 GB
There is confusion in campaigns and programming. 
The Final Call
Constant Contact aims to amplify digital marketing to small businesses. It helps the users generate significant results. Whether you want to drive sales, grow your customer base or wish to engage an audience in your email marketing, Constant Contact claims to help you.
The sales and engagement of your business will eventually grow with the help of social media leads ads, deepening customer relationships, and professional emails. If you are still trying to decide which plan you should get, then leave a comment, and we will be ready to help you. Visit somquestblog to learn more.